PASSIVHAUS CERTIFICATION:
Detached Dwellings in Santa Fe del Penedès
This is a set of two detached single-family dwellings between party walls in Santa Fe del Penedès built according the Passivhaus standards.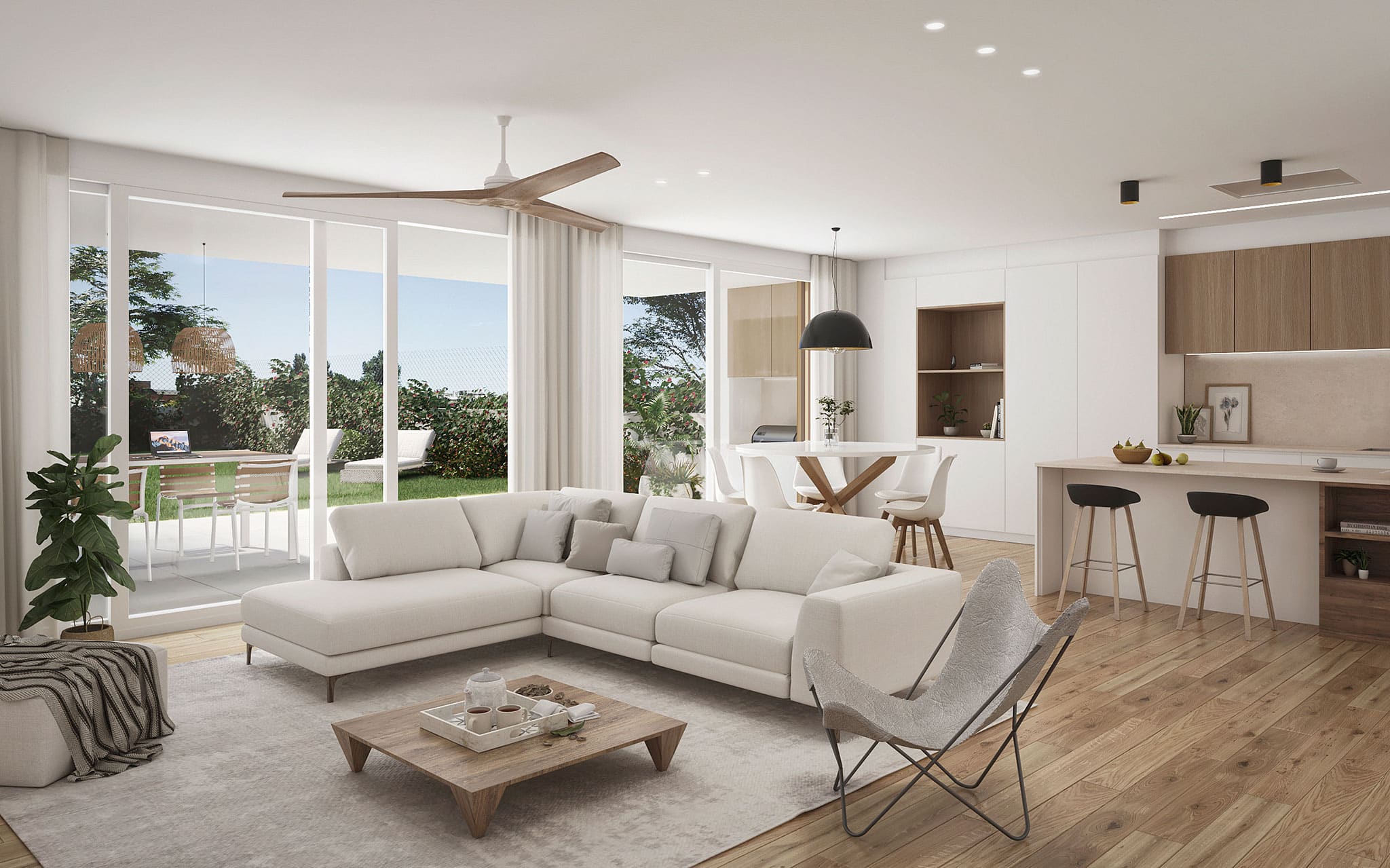 The Plot
The town is 240m above sea level y and the plot is 238.97m above sea level. These are two consolidated urban land plots with no existing buildings, each consisting of 312.42m2, having an irregular rectangular shape. Their building front is 8.95m with a similar backside and a depth of 34.81m. They are virtually flat, with a maximum 29cm slope. The location has three neighbouring plots: one to the north bordering a detached house, a southern plot and another one to the east, with no buildings yet.
The Project
The plan is a set of two detached single-family dwellings connected by party walls with access from the main road and respecting the limits to the road (4 metres) and the building depth (16m from the clearance line).
The Construction
Even though these are two separate dwellings, their structure is considered as a whole. ETICS with a white finish is mostly used for the envelope, and vertical wooden planks are used for the receding areas. External joinery is made of anthracite texturized PVC. Symmetry is used in both front and back façades as a resort for the two dwellings to be equal regarding entrances, solar protection, etc., as well as a compositional instrument.
Functional Programme
Each dwelling consists of three levels: a basement with a storeroom, a bathroom and a separate vertical core for each of the houses, with a shared parking space. On the ground floor there is an area with a corridor, a study convertible into a bedroom, a bathroom, a warehouse and a kitchen-dining-living room.
On the first floor, there are three ensuite bedrooms (one of them with a walk-in closet), a laundry room and two terraces, one of them facing the main road and the other one facing inside the plot.
Energy Efficiency
The aim is to achieve minimum energy use and maximum interior comfort for this dwellings project by meeting the Passivhaus standards. This is realised by the solutions integrated in the dwelling's active and passive systems. The construction decisions adopted for this project ensure maximum airtightness in order to minimise any energy loss through the different components of the building and its connections.