PASSIVHAUS CERTIFICATION:
Passivhaus Plus
in process
Passivhaus Plus Detached Single-family Dwelling in Viladecans
This is a high energy-efficient detached single-family dwelling in Viladecans (Baix Llobregat), with an outdoor swimming-pool and pending Passivhaus Plus certification aimed at achieving nearly-zero energy use and high interior comfort.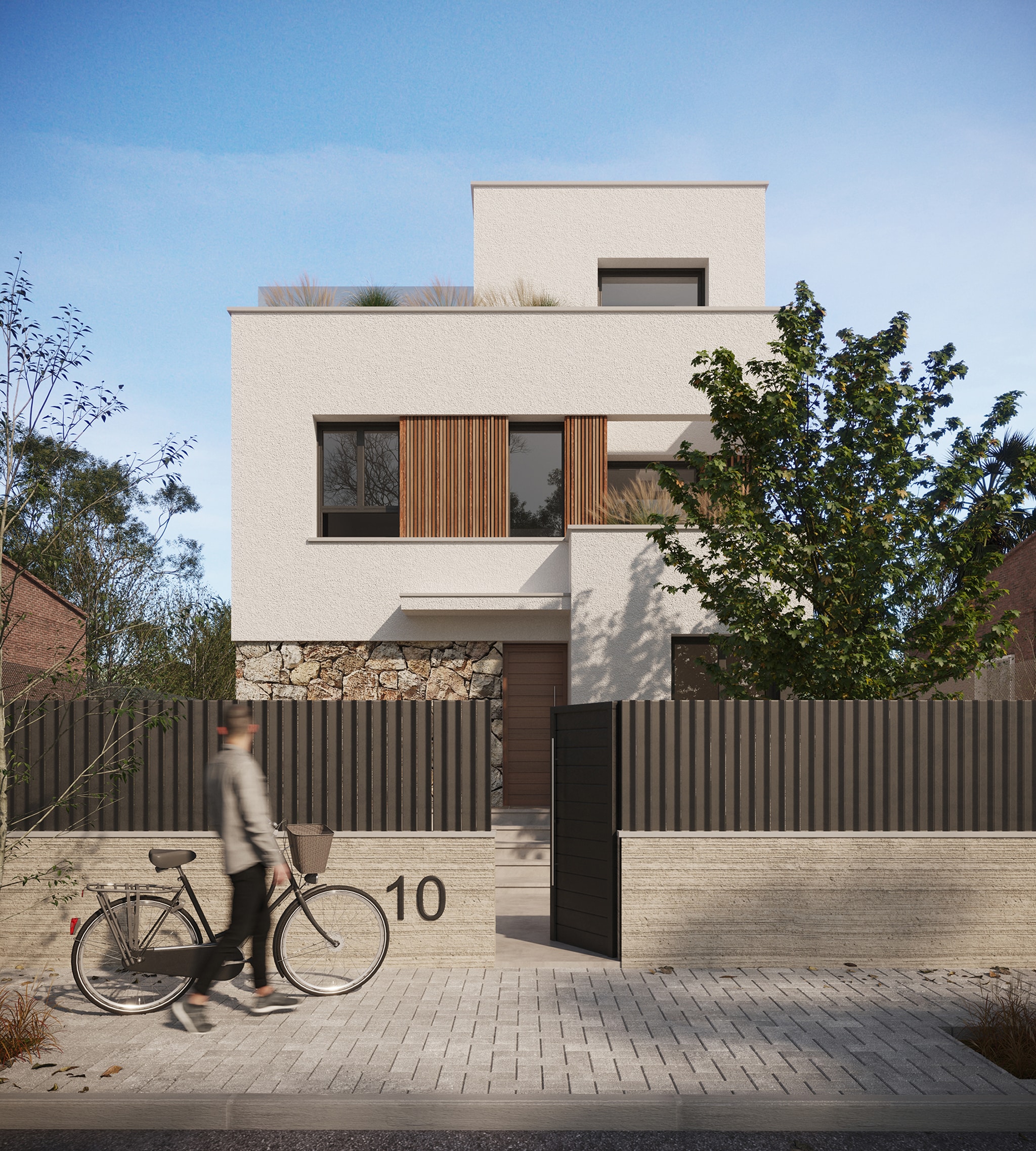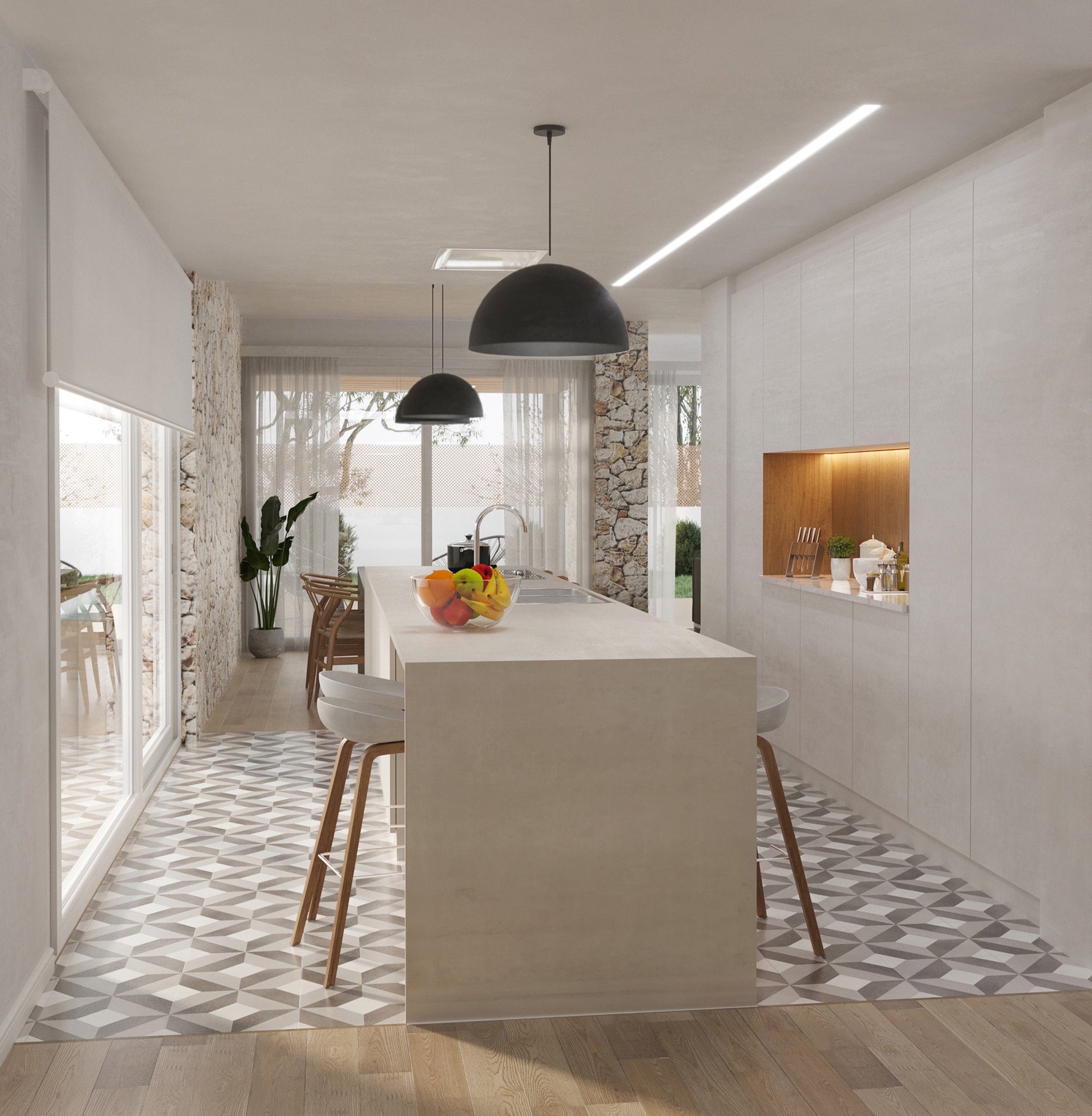 The Plot
The plot is in Viladecans, in Baix Llobregat region. The town is 18m above sea level, while the plot is 42m above sea level. It has a rectangular shape and is 7.3% inclined from southeast to northwest. Its access is on the street level. The two neighbouring plots on the sam main road have existing detached buildings.
The Project
This is a detached single-family dwelling developed in three levels: basement, ground floor and skylight leading on to a terrace/solarium on the roof deck of the first floor.
The Construction
The building consists of a basement, a ground floor and a first floor leading on to a transitable terrace located over the dining space.
The main roof deck is transitable and accessed through a skylight corresponding to the second floor. Façades feature ETICS (finished with a continuous white coating) with 10cm expanded polystyrene (EPS) insulating planks with graphite and a final next-generation continuous coating. This is a white reflective, dirt-resistant finish featuring a decontaminating effect based on organic pigments and synthetic resins. External joinery is made with wood-like PVC. The transitable roof deck is finished with a ceramic flooring identical to the one used on the outdoor ground floor, while the non-transitable roof decks are finished with pebbles.
Functional Programme
The vehicle access is achieved by means of a ramp with a variable slope which is 8-18% inclined. It is on the street level and reaches the parking space on the basement. That level is divided into two clearly distinct areas: one for the parking space and installations area, and living space consisting of a storeroom, a bathroom, a cellar, a pantry and a multipurpose space.
The ground floor accommodates the day zone with a kitchen, a living room, a dining room, a bathroom and a study accessed from the closest area to the entrance. The first floor accommodates the night zone consisting of an ensuite bedroom with a walk-in closet, two single bedrooms and a bathroom. On the second floor there is just a stairway accessing the transitable terrace and corresponding to the roof of the first floor. The unbuilt plot area is used for a garden and a swimming-pool facing the north-eastern side of the plot.
Energy Efficiency
The SgValiente dwelling is pending Passivhaus Plus certification. In order to meet such certification's requirements, the Passivhaus Classic certification relevant requirements (airtightness, lack of thermal bridges, significant insulation, heat recovery system and high-performance windows) are met along with a maximum renewable primary (PER) energy demand and photovoltaic generation. Thus, high interior comfort and extremely low energy demand are ensured.