PASSIVHAUS CERTIFICATION:
Passivhaus Multi-family Residential Building in Sant Boi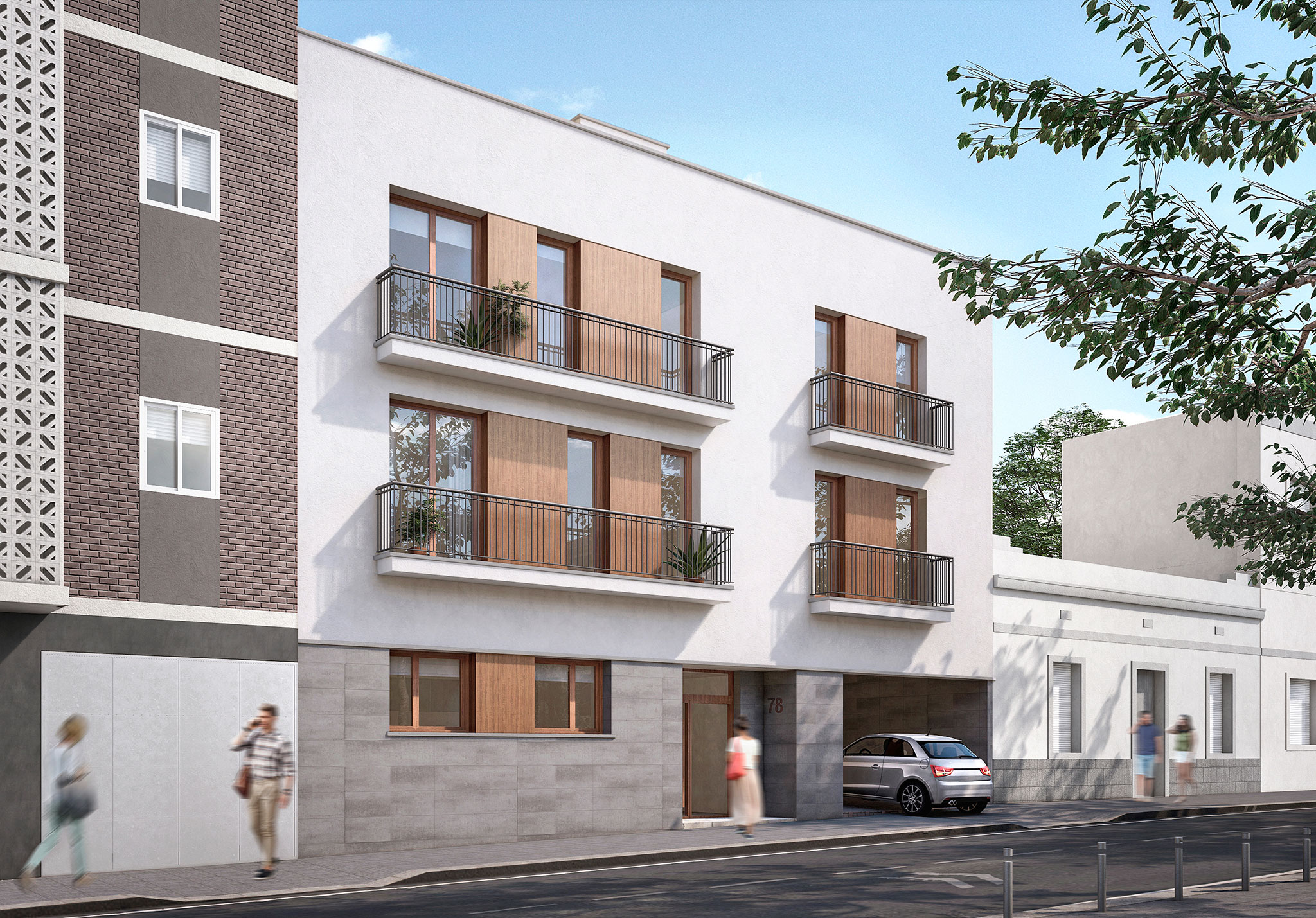 This is a new construction multi-family residential building between party walls consisting of 7 dwellings, an outdoor parking space and a swimming-pool in Sant Boi de Llobregat. The dwellings had been constructed according to nearly zero-energy standards, focusing on thermal insulation, airtightness and indoor air quality.
The Plot
Both the town and the plot's altitude are 30m above sea level. This is the grouping of two neighbouring allotments resulting in a slightly trapezoidal regular shape. It is located on the street level and no significant unevenness stands out.
The Project
The plan is a building between party walls with streetside façades and an inner courtyard. The building is designed to be facing the main road and connected to the party walls of the adjacent buildings. The community building outdoor areas in the inner courtyard are private and there is an outdoor parking space for the dwellings and a shared swimming-pool. Besides, there is a private outdoor space to exclusively used by the dwelling on the ground floor.
The Construction
The façade has vertical openings but for the ground floor, where a horizontal ceramic facing skirting is conducted. The latter covers the house openings on that level as well as the walk-in and vehicle accesses. On the upper floors, windows are grouped within a sunken plane with the same PVC with a faux wood finish as in the external joinery so that the voids are better integrated into the structure. Every dwelling has a balcony grouping all its openings towards outdoors, with a different width and depth depending on the façade (they are deeper when facing to the courtyard).
The Functional Programme
The building consists of a ground floor, two first floors and a roof deck space. The accesses, a dwelling and the access to the community area,
with 8 outdoor parking spaces and a garden with a swimming pool, are on the ground floor. The walk-in access comes directly from the main road, at about mid-way of the building. The building's hall has the necessary spaces for the metering cabinets, the vertical communication core and the walk-in access to the parking space.
Energy Efficiency
The aim is to achieve minimum energy use and maximum interior comfort for this dwellings project by meeting the Passivhaus standards. This is realised by the solutions integrated in the dwelling's active and passive systems. The construction decisions adopted for this project ensure maximum airtightness in order to minimise any energy loss through the different components of the building and its connections.